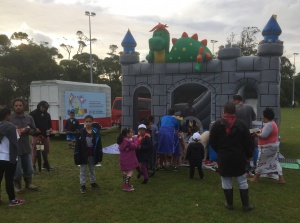 A community bouncy castle business is helping South Auckland youth make that crucial leap into the workforce.
Called 'Bounce For A Cause', the enterprise is run by youth group – Warriors of Change, who also run youth clubs, camps and programmes for Randwick Park children and teenagers.
The youth operated business aims at helping young people in Randwick Park gain work experience as well as provide an income for community initiatives.
Warriors of Change member Lafoai Lian Luaitalo says the dilemma for a lot of youth when entering the workforce is that they have no work experience.
"If young people want to apply for a job, the first thing they look for is work experience and they don't have that. So when they work with us it's easily something you could put down," says Lafoai.
The business hires out bouncy castles at private events throughout Auckland and was created in 2016 after the group received some funding.
"It's an old business and we've renamed it Bounce for a cause. The idea behind 'cause' is that you're bouncing to help youth gain work experience," she says.
Youth group mentor Kataraina Tims says Bounce for a cause is about providing young people with a skill-set that will benefit them in the future.
"We have a high percentage of unemployment. People here have so much potential, but just haven't been given a chance," she says.
Randwick Park residents' association spokesperson Dave Tims says neighbourhood-led enterprise allows communities to produce positive social outcomes through business.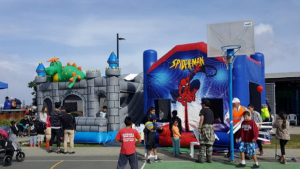 "Small stepping stones into employment is one way of helping to make our neighbourhood thrive, especially when we can work together," he says.
Lafoai says the business is doing well and has received bookings from all around the city, including Birkenhead and Pukekohe.
All profits collected from the business go back into the community and the three youth clubs – Soufpac, UP2 and TNG – run by Warriors of Change.
Lafoai says employing youth provides an opportunity to build local leaders who will go on and have a positive impact on the community.
Warriors of Change are taking part Z's Good in the Hood competition this month and are in the draw to receive a share in a $4,000 grant.
To vote for them go to the Manurewa Z station on 1 Alfriston Road to visit www.z.co.nz/GoodintheHood before May 31 when the competition closes.
Brandon Ulfsby is an AUT University journalism student. This story has been published with permission from tewahanui.nz